When you get employed in Canada, it is required that you have an employment contract with your employer. This contract sets the terms and conditions of your employment.
Most people without an employment contract can easily be laid off without compensation as there is no binding agreement upon employment. This article will be reviewing what an employment contract is and a sample.
What is an employment contract?
An employment contract is simply an agreement between an employee and employer. It contains the terms and conditions of your employment, including details such as your work hours, the length of your employment (if it is definite), your pay rate, your responsibilities and duties, restrictions, holidays, etc.
Employment contracts can be either in written or verbal form. That is, if you and your employer verbally agree to the term of your employment, it is legally binding. However, it is always advisable to have a written form or get a recording of the verbal agreement for future reference.
Also, your employment contract may leave out some details, but in Canada, if the Employment Standards Code covers your job, you will be entitled to some minimums like minimum wage and holidays.
So, suppose your employer leaves some vital details out of your contract and the Employment Standards cover your job in your province or territory. In that case, your contract is to be treated as if it includes the minimum amounts set in the law. Generally, the Canadian labour law treats ambiguities in employment contracts in favour of employees in Canada.
When to Sign an Employment Contract
Usually, both parties (employer and employee) are to sign the employment contract at the start of employment. Still, your employer can adjust and review your contract over time to accommodate changes like promotions, pay increases, restructuring, and other issues.
Note that any review and adjustment must be mutually agreed upon by both parties (employers and employees). Also, you must not involve the services of a third-party representative like recruitment agencies when facilitating your employment contract as they cannot sign on behalf of either the employer or the employee.
Use of Employment Contract
Generally, an employment contract in Canada will tell you the status of your employment, such as:
Permanent full-time employment
Permanent part-time employment
Fixed period
Flexible employment
Valid and Invalid Employment Contracts
Generally, in Canada, employment contracts are essential. Your contract will not be legally binding or enforceable if it does not adhere to minimum employment standards, occupational health and safety laws, human rights laws, and some basic rules. That is, your employment contract will not be valid if the requirements mentioned above are not included whether you and the employer agree to it verbally or in writing.
The basic rules an employment contract must comply with are;
Offer and acceptance by the employer and employee, respectively.
Legal terms of employment
Consideration (i.e. benefit for both the employer and employee)
The Canada Employment law can deem your contract invalid if your employer changes it to remove an existing right you are entitled to or existing benefits you enjoy. Also, if a third party signs your employment contract, it will be deemed invalid.
Clauses in Employment Contracts
Clauses are a common feature in employment contracts. They restrict employees from doing certain things during their employment and for a set period after the termination of their employment.
Some of these clauses include;
This clause restricts employees from sharing information about the company or organization they work for.
This clause prevents employees from directly competing with the company or business they work for.
With this clause, an employee is prohibited from hiring/enticing their co-workers to work for them or another organization.
These clauses must be in writing to be valid and enforceable. Also, you must draft it with the aid of legal counsel not to exceed the boundaries of the law.
Probation Period
Suppose your employment contract includes a probation period, not entitled to a notice of termination during that period. Your employer determines the length of the period, and your employer can terminate your employment at any time. Also, a probation period or trial period doesn't have to be included in your employment contract.
Termination of Employment
Usually, employment contracts in Canada have indefinite lengths, so when such employment is terminated, the employee must receive a termination of notice or pay in lieu of notice.
Your employer will indicate the termination of notice or pay in lieu of notice in your employment letter. In the case of a fixed period employment (definite employment contract), the employee may not be entitled to receive a notice of termination, especially if the date of termination coincides with the day the fixed period ends.
If you want to quit the job, your employment contract may require that you notify your employer some days or weeks before the intended date as specified by the employer.
Sample of an Employment Contract in Canada
Below is a SAMPLE of an employment contract for a permanent full-time employee.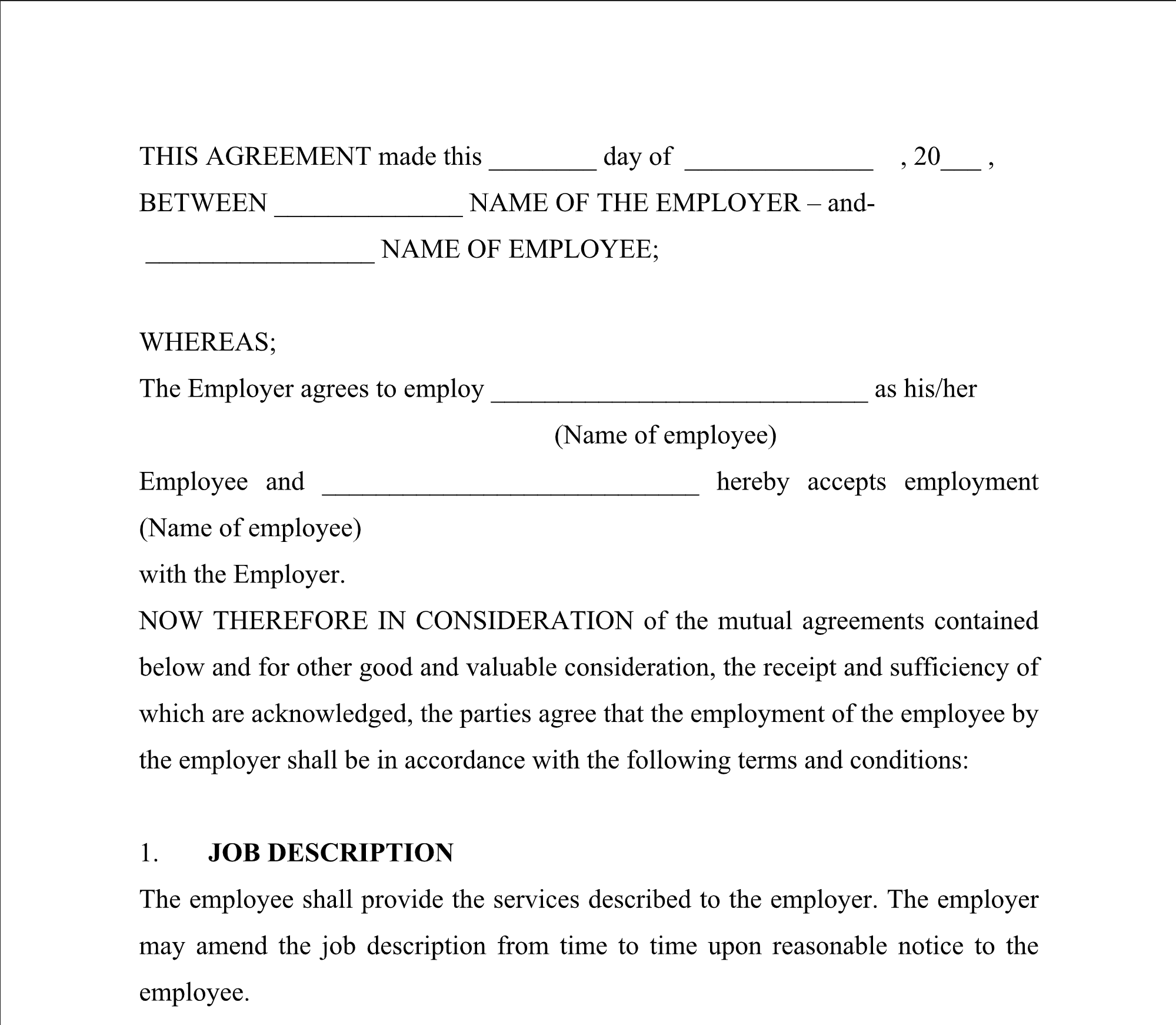 You can download the PDF version here
Conclusion
Employment contracts are necessary as they guide the employer-employee relationship. Generally, employment contracts are taken seriously and must comply with provincial or territorial employment standards.