Learning to write a check is a skill that can come in very handy anywhere in Canada. In today's digital world, most financial transactions are carried out online. Nonetheless, it is necessary to practice proper banking etiquette when you visit a physical bank, and one of the ways to do so is to learn how to write a cheque to someone.
Although cheques are not as popular as they once were, they remain useful and affordable to transfer money.
Paper cheques are quickly becoming an endangered species due to the continuous rise in electronic banking, but you still need to learn how to write a cheque online. Keep reading to rediscover the lost art of writing a cheque and how to write a cheque correctly.
What is a Cheque's Purpose?
You don't need to beat yourself too hard if you've never used a cheque or you don't know what it is. Depending on where you're reading this article from, a check or cheque is a piece of paper written, dated, and signed, with an order telling a bank to pay a certain sum of money to the bearer.
The person writing the cheque is the drawer or payor, while the person to whom the cheque is written is known as the payee. The bank is the drawee and is the place where the cheque is drawn. Cheques may be deposited or cashed. The payee walks into the bank and presents the cheque while the money is removed from the payor's account.
Now you know what a cheque is, it is necessary to learn how to write a cheque properly for the following reasons:
To make a down payment on your home or any other property
To pay your rent
To pay your tuition
Buy goods and services
Pay your debt
Pay for government services
Pay into charitable organizations
Do not have an online banking account
The above shows that cheques still have a critical function in today's financial transactions, and that's reason enough to know how to write one. Below are steps on how to write a cheque.
How to Write a Cheque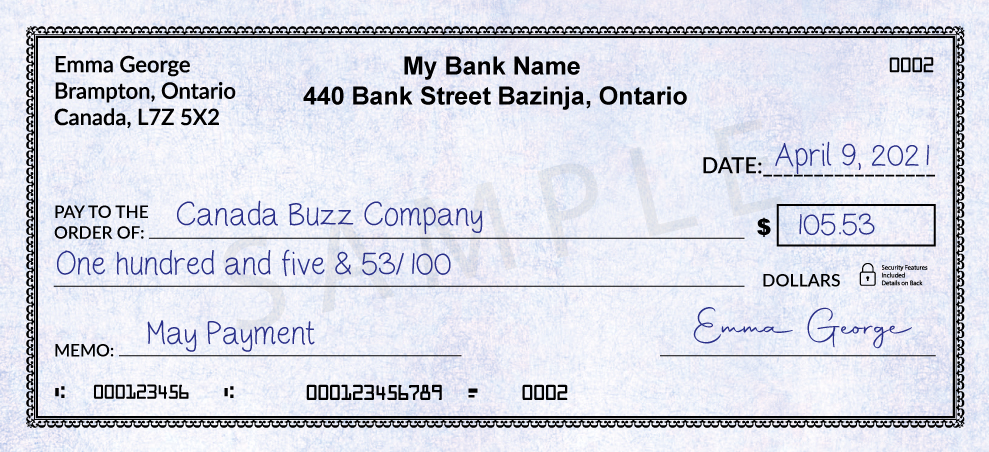 This is a picture of a cheque for 105.53 dollars. Obviously, it's filled out with nothing amiss. While it's a fake cheque, it's a like-for-like replica of a real cheque that can be cashed or deposited for C$105.53.
Step 1. Write the date on the cheque
Your first step in learning how to write a cheque to someone is to fill the cheque date. You may fill it by writing the exact date you are depositing or cashing the cheque.
The date is often at the upper right-hand corner for most cheques. While it's often possible to postdate a cheque, it isn't as simple as it seems. Whichever way you choose to fill the date, ensure it's clear and concise.
Step 2. Write the payee's name
This name can be a company name or an individual. It is essential to ascertain the correct spelling of the recipient before writing out this section. In many instances, the bank may allow you to deposit or cash a cheque with misspellings.
However, this policy is not set in stone, and individual banks have separate policies where the bank teller may decline to accept a cheque without further proof of identity.
Step 3. Write the amount in numbers
The next step is to fill in the amount. Whatever number you fill is what the drawee (Bank) will pay to the payee (recipient). Ensure you put down the number as close to the left as possible to prevent unscrupulous elements from adding another figure into the box.
For instance, if you write "$105.53" and insert it right in the middle of the box, it'd be a piece of cake for anyone to add "1" to make it C$1105.53.
Step 4. Write the amount in words
After filling the cheque in figures, you'll need to repeat the same process in words. This part is a bit tricky and can even baffle people who know how to write a cheque online.
Write out the amount in words, making sure to do so in CAPITAL LETTERS. Doing this further affirms the amount you wish to be withdrawn.
Once you write the amount in words, draw a line afterward to ensure nothing else is inserted in the space behind. The amount in words is the legal amount of the cheque.
It is essential to write the amount in words accurately because the amount in words supersedes the amount in figures where there's a conflict between both.
Step 5. Sign the cheque
The next step is to put down your name and signature. It's excellent advice to use the same name and signature in the bank records. A cheque without a signature is invalid in Canadian law.
Step 6. Fill out the Memo Line
Although this step is optional, it is an excellent idea to include a note on the memo line to remind the cheque's purpose. For instance, the cheque could be for a wedding gift or bill payments.
After writing the Cheque what next?
After writing a cheque, the next step is to tear off the cheque and keep a copy for your records. If your checkbook is the old-school carbon-copy variant, you'd need to tear off the top copy and give it to the payee.
The lighter copy behind is yours for record-keeping. But if your checkbook doesn't have a carbon copy, ensure you record the transaction details in a register. You can keep a separate log if your checkbook doesn't have a blank register attached.
How to write a cheque for 1000 dollars
If you want to learn how to write a cheque for 1000 dollars without cents, you can look at the already filled example above. The amount is written in numbers and words, including the word "and" with a line drawn at the end.
For example: How to write a cheque for 1000 dollars – "One thousand and 00/100."
How to write a cheque to yourself
Although not often in use, it isn't out of the ordinary to write a cheque to yourself. Inscribe your name on the line where it's written "PAY TO THE ORDER OF," and that's it.
How to write a cheque online
Writing a cheque online is easy. First, you need to download your bank app or log in to your bank portal and follow the step-by-step (1-6) guide above
How to write a cheque with cents
Writing a cheque with cents isn't difficult. For example, the cheque above is for C$105.53. While filling the cheque, you'll write "one hundred five and 53/100."
When writing a cheque with cents, ensure to write the cent amount over 100. If the amount is a round number, simply write it as 00/100 for further clarity.
FAQs
How long will it take to clear a cheque?
The maximum holding time for checks C$1500 and below is between 4 – 5 days. A cheque above C$1500 has a maximum holding time ranging between 7 – 8 days.
However, cheques often clear before the maximum holding period. It is essential to foster a good relationship with your bank to process your funds promptly.
How do I cash or deposit a cheque?
You can cash or deposit a cheque by first endorsing it on the back. After that, you take it to the bank branch nearest to you or deposit via mobile app – even though all banks don't support this feature. If you know how to write a cheque online, you can deposit the cheque using your mobile bank app, log in to the banking platform and follow the instructions.
Most banks will ensure you take the front and back picture of the cheque before filling in the information, like the amount you want to deposit and the account you wish to deposit into. After doing this and submitting it, the bank will process the cheque.
A cheque is valid for how long?
Payments Canada is the agency responsible for settling and clearing Canadian financial transactions, and according to them, a cheque that is stale-dated for six months can't be deposited. However, banks often exercise their discretion in deciding whether to honor a stale-dated cheque.
What are the features of a cheque?
Now that you understand the functions of cheques, it's crucial to know the meaning of their features. Cheques vary in Canada, but standard cheques will often contain the features below:
Your name, contact address, and postal code
A space to write the DATE:_______
A line titled "PAY TO THE ORDER OF:__________________
A rectangular box beginning with a "$" to fill in the amount in figures
A line ending in "DOLLARS" where you can fill in the amount in words
A "MEMO" line to write what the cheque is for
A line beside the memo line where you can affix your signature
What if you make a mistake writing a cheque?
Unfortunately, if you misspell the recipient's name, input the wrong amount, or leave the cheque unsigned, those errors may invalidate your cheque. In a worst-case scenario, you may end up sending the money to the wrong recipient.
Although banks do have a way to forestall or checkmate most of these problems, there are other actionable steps you can take:
Cross out any errors with one horizontal strike and rewrite the correct information
Sign above the error to show you take responsibility for it
If the error is substantial, inscribe the word "VOID" in CAPITAL LETTERS across the entire cheque.
If you're not satisfied, do the above, destroy the cheque and dispose of it properly.
Keep in mind that some errors on a cheque may be more grievous than others. The bank will reject a cheque if it considers the errors to be too grievous. Your best bet is to void the cheque, destroy, dispose, and start afresh.